September 14, 15 and 16
What bird can fly backward, is only found in North and South America, and has a heart rhythm of at 1200 beats per minute?
You guessed it – a hummingbird! The Ruby-throated Hummingbird will soon be migrating through the Mississippi Gulf Coast in search of its wintering grounds in Central America. To celebrate the fascinating hummingbird and its fall migration, the Pascagoula River Audubon Center will host its annual Hummingbird Festival September 15 and 16, where guests will learn more about the tiny birds, how to create bird-friendly habitats, and understand how to become more environmentally conscious.
Online ticket sales have begun. Tickets are $10 for adults, $8 for seniors and military members, and $5 for children. Children under age 5 can come for FREE with the purchase of an adult ticket. Visit Pascagoula.audubon.org to purchase tickets and to view special festival merchandise.
A favorite exhibit at the annual event is the banding of hummingbirds and other songbirds. Bird banding is conducted as part of scientific research to understand migration routes, measure survival rates and population trends, and understand social structure and behavior.
"Hummingbird banding remains the only tool to understand the continental scale of individual hummingbird migrations," said Dr. Erik Johnson, Director of Conservation Science for Audubon Delta. "It has provided essential insights into how frequently individual hummingbirds return to the same breeding and wintering areas year after year."
Dr. Johnson describes hummingbird observations as "the gateway drug to bird watching." He also added that banding also provides information about the differences in the timing and routes of migration across different age and sex classes. Observing the banding process allows guests to take part in scientific research.
"During the festival, we're only likely to see Ruby-throated Hummingbirds," Johnson said. "Still, later in the fall, other species from out west and from tropical Mexico can show up in Mississippi, which now boasts a list of 12 species of hummingbirds found in the state."
Throughout the two-day festival, guests can tour the Rhodes Bayou property and observe a variety of bird species. Along with bird banding by representatives from the Banding Coalition of the Americas and the Audubon Delta coastal stewardship team, storyteller Brian "Fox" Ellis will be spinning tales as John James Audubon by sharing his love of birds through his explorations.
A special Hummingbird Happy Hour will take place Thursday, September 14, from 4 to 8 p.m. for guests 21 and older. This ticketed event will feature a variety of complimentary wines, beer, and snacks along with a signature drink.
The Hummingbird Festival and Birds of a Feather are the two largest fundraisers sponsored by the Pascagoula River Audubon Center, your local hub for conservation education programming that positively impacts communities along your Gulf Coast. Your support will help ensure that the programs will continue to grow and better serve wildlife and the community.
Purchase tickets HERE!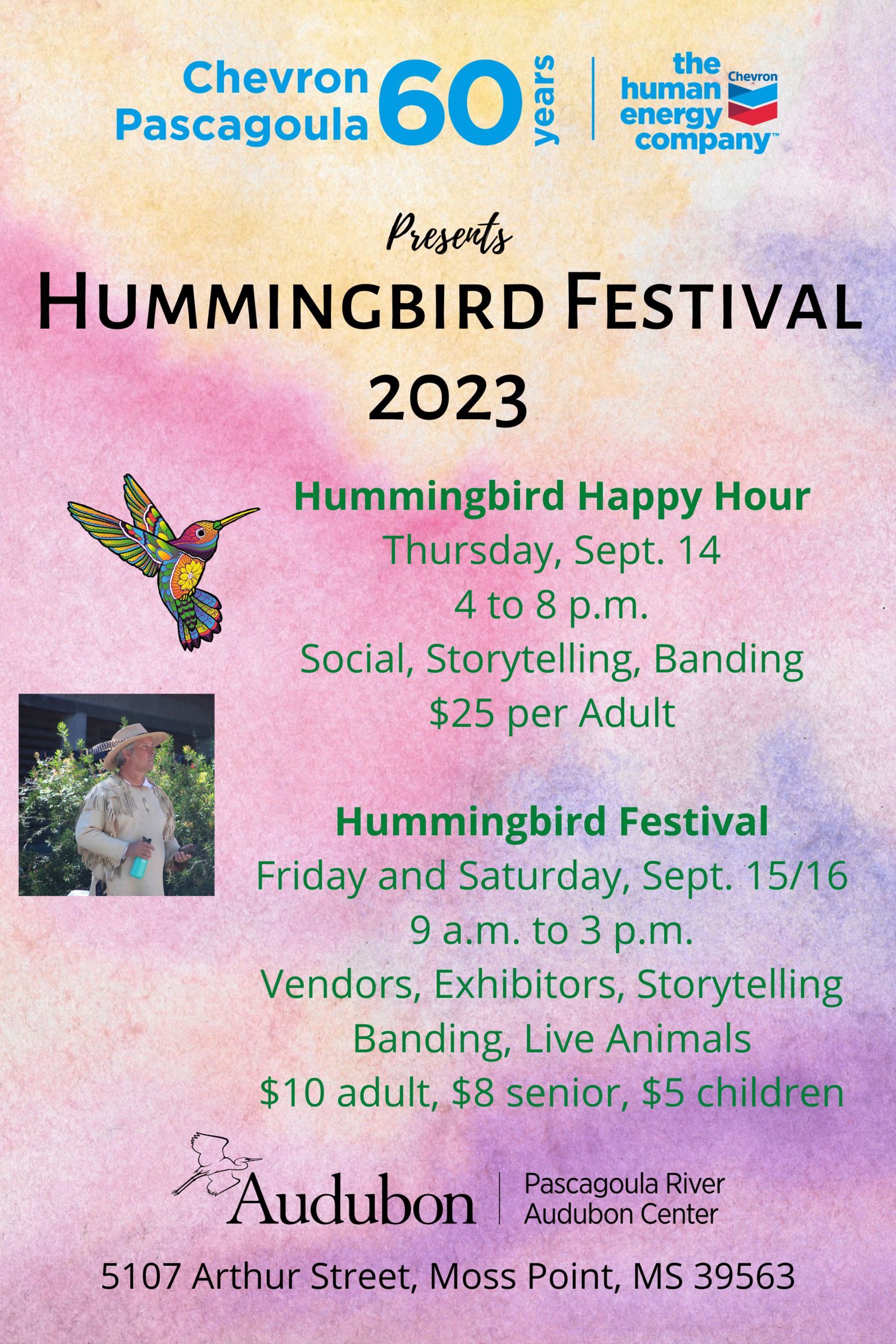 Vendors interested in participating should register HERE!
Want to work as a volunteer this year? We NEED YOU! Click HERE to register as an event volunteer!
Click HERE for a memories of the 2022 Festival shared by Photographer Reba Davis.
Kyle Shepherd with the Banding Coalition of the Americas catches and bands Hummingbirds before releasing them again. This banding process is used to study migration patterns.
Click HERE for more information regarding the work of the Banding Coalition.
Adventures with Audubon – Come spend an hour in the studio of one of America's greatest naturalists and wildlife artist. Listen to tales of
his adventures as he finishes something no one had ever accomplished before: drawing every bird in North America. With an emphasis on the scientific process, STEM, and lessons in inquiry, Audubon will enchant you with stories of his travels and travails in the wildest places on
the planet, including a tour of the Mississippi Gulf Coast in the 1830's! He will bring to life bird behavior and world history as he saw
it in the early 1800s.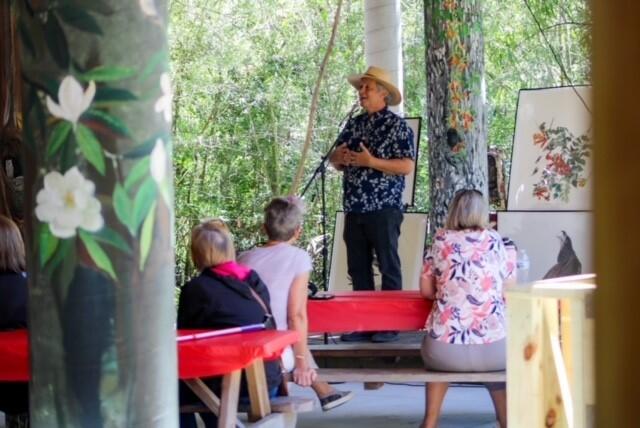 For younger students: (preschool and early elementary) John James Audubon's Bird Tales – Hear the stories of Audubon's youth,
his love for birds, his technique for painting them, and most importantly Audubon's passion for science and field ecology. In his
travels Audubon frequently camped with Native Americans and will share Native folklore about birds, sing an eagle song, and explore the wild
world as he saw it 200 years ago.

And all programs come with grade level appropriate lesson plans:
https://www.foxtalesint.com/images/LessonPlanpdf/BIRD_TALES_-_handout.pdf
https://www.foxtalesint.com/images/LessonPlanpdf/BIRD_IS_THE_WORD.pdf
https://www.foxtalesint.com/images/LessonPlanpdf/Rewriting_Audubon.pdf

Native Plants will be available for purchase.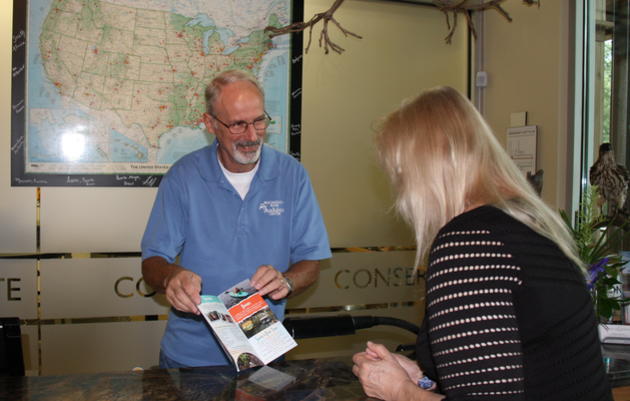 Get Involved
Let us find the perfect fit for your skills, interests, and talents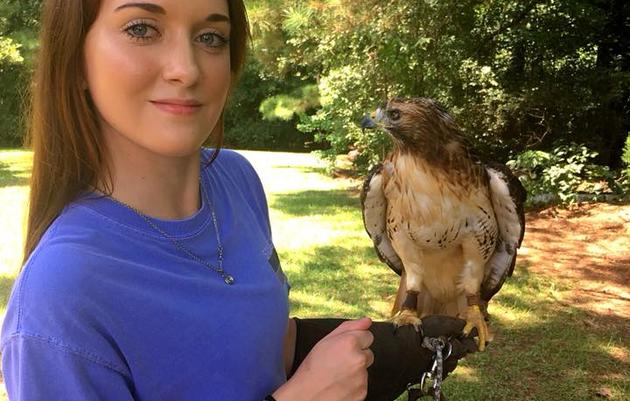 Programs
Learn about our panel of speakers who will be featured at the Hummingbird Festival!
How you can help, right now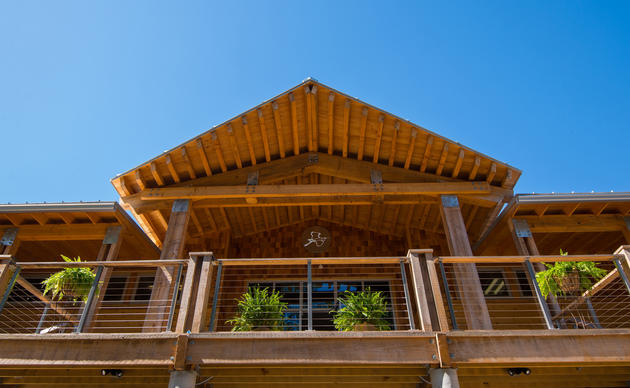 Volunteer With Us!
We need helpers in the gardens, at the front desk, and with educational programs. Contact us today for more information.