Bring Your Spring Landscape to Life with Fall Native Plants
Online and Onsite Sales with Curbside Pickup 2020
Online sales begin September 21, 2020
On site sales and curbside pickup begins September 23, 2020 from 10 a.m. to 2 p.m.
Check out our ONLINE CATALOG
About the Native Plant Sale
The Plant Sale is WHILE SUPPLIES LAST.
Sale takes place RAIN or SHINE
We will be selling dozens of different perennial species!
Not sure what to plant? Check out this resource provide by the National Audubon Society.
What are Native Plants?
Species that occurred in North America prior to European settlement are considered native. The distinction is made because of the changes that have resulted from the introduction of exotic, ornamental plants into the U.S. from other continents.
Native plants are the foundation of our natural food chain and the key for attracting and supporting birds, butterflies and other wildlife.
These plants are adapted to our regional conditions and often require less maintenance and rarely require the use of pesticides and fertilizers.
They promote biodiversity and help strengthen and support local ecosystems.
Species available for fall purchase:
Grass
Pink Muhly Grass (Muhlenbergia capillaris)
Shrubs/Trees
Scarlet Rosemallow (Hibiscus coccineus)
Florida Azalea (Rhododendron austrinum)
Native Azalea (Rhododendron canescens)
Dwarf Palmetto (Sabal minor)
Fetterbush (Lyonia lucida)
Oakleaf Hydrangeas (Hydrangea quercifolia)
American Beautyberry (Callicarpa americana)
Yaupon Holly (Ilex vomitoria)
Wax Myrtle (Morella cerifera)
Possumhaw Holly (Ilex decidua)
Virginia Sweetspire (Itea virginica)
Arrowood Viburhnam (Viburnum dentatum)
Big Leaf Magnolia (Magnolia macrophylla)
Fringe Tree (Chioanthus virginicus)
St. John's Wort (Hypericum prolificum)
Vines
Trumpet/Coral Honeysuckle (Lonicera semperivirens)
Carolina Jessemine (Gelsemium sempervirens)
Ferns
Lady Fern (Athyrium flilix-femina)
Christmas Fern (Polystichum acrostichosides)
Flowering Perennials
Dense Blazing Star/Gayfeather (Liatris spicata)
PowPow "Wild Berry" Coneflower (Echinacea purpera)
White coneflower (Echinacea purpura White)
Swamp Milkweed (Asclepias incarnata)
Butterfly milkweed (Asclepias tuberosa)
Hyssop-leaf Thoroughwort (Eupatorium hyssopifolium)
Black eyed Susan (Rudbeckia hirta)
Rattlesnake Master (Eryginium yuccifolium)
Lavender Bee Balm (Monarda fistulosa)
Ironweed (Veronia lettermanii)
Goldenrod (Solidago rugosa)
Purple Mistflower (Conoclinium coelestinium)
Cutleaf Coneflower (Rudbeckia lacinata)
Verbena (Glandularia Canadensis)
Tickseed (Coreopsis pubescens)
Garden Phlox (Phlox paniculata)
How you can help, right now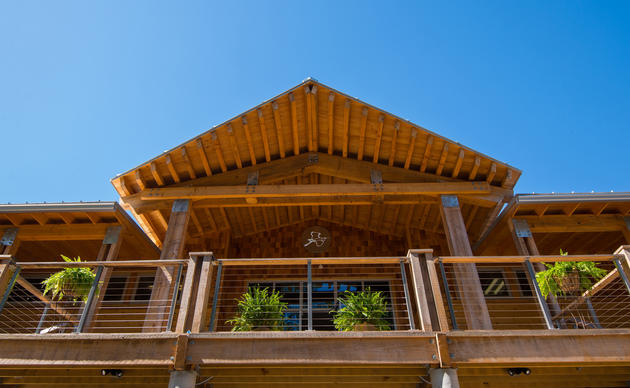 Volunteer With Us!
We need helpers in the gardens, at the front desk, and with educational programs. Contact us today for more information.