Bring Your Landscape to Life with Native Plants and Feed the Birds, Bees and Pollinators
Fall Native Plant Sale, September 16 and 17, 2022
Offering dozens of different perennial species!
Flowering Perennials
Butterfly Milkweed (A. tuberosa)
Swamp Milkweed (A. incarnata)
Purple Pitcher Plant (S. purpura)
Beartongue (P. digitalis)
Black Eyed Susan (R. fulgida)
Prairie Blazing Star (L. pycnostachya)
Purple Coneflower (E. purpura)
White Wood Aster (A. divaricatus)
Smooth Blue Aster (A. laevis)
Aromatic Aster (A. oblongifolius)
Eastern Red Columbine (A. canadensis)
Vines
Carolina Jessemine (G. sempervirens)
Shrubs
Orange Azalea (R. austrinum)
Common Winterberry (I. verticillata)
Oakleaf hydrangea (H. quercifolia)
American Beautyberry (C. americana)
Coralbean (E. herbacea)
Dwarf Palmetto (S. minor)
Red Buckeye (A. pavia)
Trees
Mayhaw (C. opaca)
Black Cherry (P. serotina)
Loblolly Pine (P. taeda)
Sweetbay Magnolia (M. virginiana)
Chinquapin Oak (Q. muehlenbergii)
Eastern Redbud (C. canadensis)
Catalpa Tree (C. speciosa)
Sourwood (O. arboretum)
Overcup Oak (Q. lyrata)
Not sure what to plant? Check out this resource provide by the National Audubon Society.
What are Native Plants?
Species that occurred in North America prior to European settlement are considered native. The distinction is made because of the changes that have resulted from the introduction of exotic, ornamental plants into the U.S. from other continents.
Native plants are the foundation of our natural food chain and the key for attracting and supporting birds, butterflies and other wildlife.
These plants are adapted to our regional conditions and often require less maintenance and rarely require the use of pesticides and fertilizers.
They promote biodiversity and help strengthen and support local ecosystems.
Shopping for members only will be Wednesday, September 14, 9 a.m. to 3 p.m.
(Members who can't make it that day should call the center for assistance.)
2022 Fall Native Plant Inventory Click Below
How you can help, right now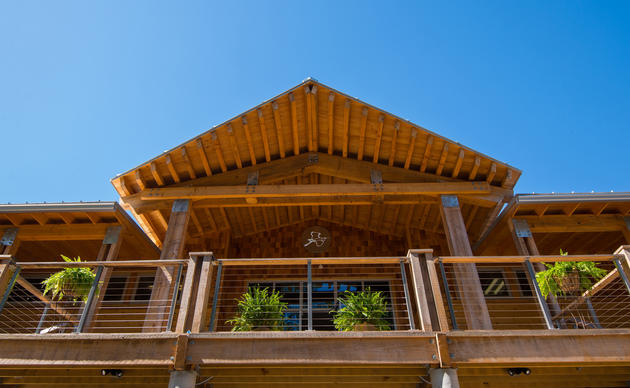 Volunteer With Us!
We need helpers in the gardens, at the front desk, and with educational programs. Contact us today for more information.