Bring Your Landscape to Life with Native Plants
About the Native Plant Initiative
Offering dozens of different perennial species!
Not sure what to plant? Check out this resource provide by the National Audubon Society.
What are Native Plants?
Species that occurred in North America prior to European settlement are considered native. The distinction is made because of the changes that have resulted from the introduction of exotic, ornamental plants into the U.S. from other continents.
Native plants are the foundation of our natural food chain and the key for attracting and supporting birds, butterflies and other wildlife.
These plants are adapted to our regional conditions and often require less maintenance and rarely require the use of pesticides and fertilizers.
They promote biodiversity and help strengthen and support local ecosystems.
Species available for purchase while supplies last:
Perennials
Beardstounge (Penstemon digitalis 'Husker Red')
BeeBalm (Mondarda fistulosa)
BeeBlossom (Guara lindheimeri)
Black-eyed Susan (Rrudbeckia hirta)
Blue Cardinal Flower (Loelia siphilitica)
Blue Mistflower (Eupatorium coelestinum)
Butterfly Weed (Asclepias tuberosa)
Cardinal Flower (Lobelia cardinalis)
Color Wheel Stokes Aster (Stokesia laevis)
Copper Iris (Iris fulva (Rosedale)
Crinkle-leaf goldenrod (Solidago rugosa "Fireworks")
Cutleaf Coneflower (Rudbeckia lacinata)
Dense Blazing Star (Liatris spicata)
Giant Coneflower (Rudbeckia maxima)
Hyssop-leaf thouroughwort (Eupatorium hyssopfolium)
Joe-pye Flower (Eupatorium fistulosum)
Lady Fern (Athyrium filix-femina)
Phlox Paniculata "jeana" (Phlox paniculata "Jeana")
Prairie Coneflower (Ratibida pinnata)
Purple Coneflower (Echinacea purpurea 'Berry')
Rosemallow (Hibuscus lasiocarpos)
Scarlet beebalm/Oswego Tea (Monarda didyma)
Scarlet Rosemallow (Hibiscus coccinea)
Seaside Goldenrod (Solidago sempervirnes)
Seven Sisters (Crinum amerianum)
Spider lily (Hymenocallis liriosme)
Sundrops (Oenothera fruticosa)
Swamp Milkweed (Asclepias incarnata)
Swamp Sunflower (Helianthus angustifolius)
Tickseed (Coreopsis)
Verbena Homestead (Verbena canadensis)
White Coneflower (Echinacea purpurea 'White')
Woodland Phlox (Phlox divarcata)
Ferns
Lady Fern (Athyrium filix-femina)
Southern Wood Fern (Dryopteris ludoviciana)
Vines
Carolina Jessamine (Gelsemium sempervirens)
Trumpet Honeysuckle Vine (Lonicera sempervirens)

Grasses
Little Bluestem (Schizachyrium scoparium)
Pink Muhly Grass (Muhlenbergia capillaris)
Shrubs
Beautyberry (Callicarpa americana)
Beautyberry (Callicarpa americana)
Coralbean (Erythrina herbacea)
Florida anise/Red Anise/Starbush (Illicium floridanum)
Florida Azalea (Rhododendrom austrinum)
Mountain/Piedmont Azalea (Rhododendron canescens)
Oak-leaf Hydrangea (Hydrangea quercifolia)
Possomhaw Holly (Ilex decidua)
Sassafras (Sassafras albidum)
Scarlet Rosemallow (Hibiscus coccineus)
Southern Arrow-wood (Viburnum dentatum)
St Johns Wort (Hypericum prolificum)
Virginia Sweetspire (Itea virginica)
Yaupon Holly (Ilex vomitoria "Hoskins Shadow")
Mountain/Piedmont Azalea (Rhododendron canescens)
Wax Myrtle (Morella cerifera)
Trees
Bottlebrush Buckeye (Aesculus parviflora)
Button Bush Tree (Cephanlanthus occidentalis)
Fringe Tree (Chionanthus virginicus)
MayHaw (Crataegus opaca)
Paw Paw (Asimina triloba)
Swamp Titi (Cyrilla racemiflora)
Sweetbay Magnolia (Magnolia virginiana)
How you can help, right now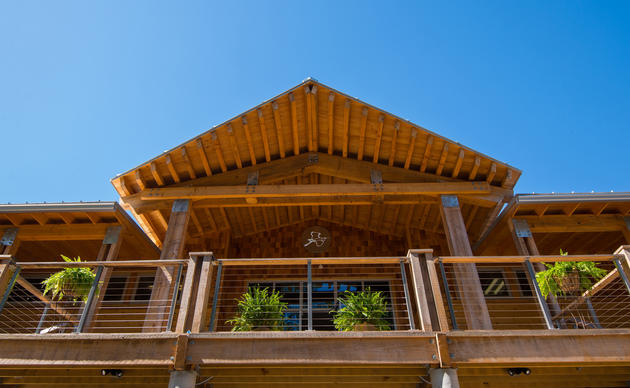 Volunteer With Us!
We need helpers in the gardens, at the front desk, and with educational programs. Contact us today for more information.