Hands-on learning and discovery for our youngest explorers is moving to Thursday!
The Toddler Tuesday program is moving to Thursday, but the programming will continue to connect our youngest visitors to nature through stories, art, science, math, music, and movement while interacting with their adult caregiver and other children. Each weekly class has a seasonal theme, and we will spend as much time outdoors as the weather and interest allows. Activities related to each theme encourage children to discover and explore the world around them at their own pace and in their own way- we understand that toddlers have minds of their own and the way they learn best is through hands-on exploration.
Children and their caregivers have time to socialize, practice simple pre-literacy and pre-math skills, and more while exploring, discovering, playing, and experiencing nature. We encourage children and adults to dress for the weather and to plan to get a bit dirty while we explore using all of our senses.
Geared for: Toddlers Ages 2-5 and an adult. Thursdays from 9:30 to 10:45 a.m. (Younger siblings FREE with with parents)
Cost:
$5 per child per class
$2 per caregiver
Member caregivers FREE
Schedule: Nature Tots will run every Thursday during the regular school semester between September to December and February to May, taking a break during January, June, July, and August. Every other week will be lead by our educator followed by an enrichment week of self-guided activities for toddler and caregiver.
Nature Tots for Thursday, April 6 and April 20 have been canceled due to on-site field trips.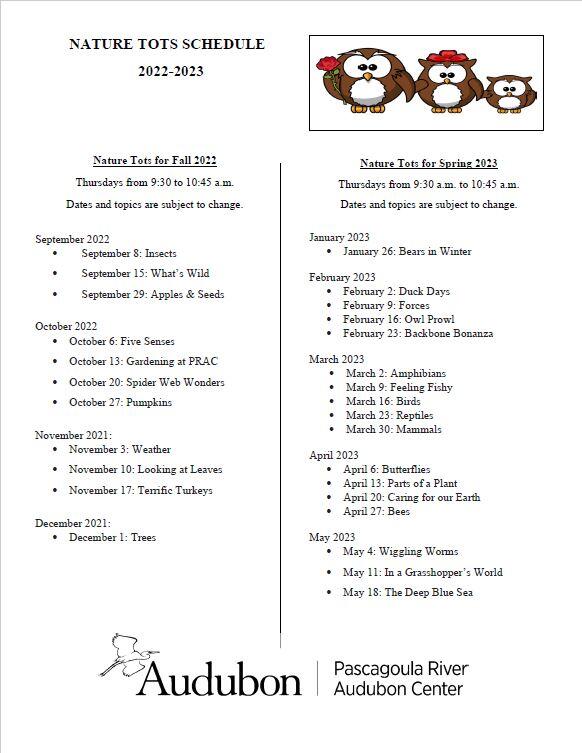 Reserve your spot: For planning purposes, please let us know you are coming each week by clicking HERE each week.