About the Gallery
The fine art gallery showcases individual artists, community exhibits, and student exhibits throughout the year. Every exhibit is welcomed by a free artist reception that allows visitors to see the exhibit first and meet the artist/s. Exhibits are typically on display for two months. If you are interested in holding an exhibit in the gallery, please email prac@audubon.org and send digital samples of your current work.
Current Exhibit: "The Art of Metal" by Cym Doggett
The Art of Metal Gallery Opening November 11The Moss Point Fine Art Gallery welcomes Cym Doggett with her unique art that is engraved into metal. Come meet the artist at the opening reception from 4-6 p.m. Thursday, November 11.

Doggett is a self-taught artist focusing her work on engraving simple lines and dots into metal to capture the complexity of small glimpses of nature. She said much of her work is a close, magnified examination of a subject exploring the unique structure responsible for its place and survival in its habitat. She said this fascination with the wild is attributed to growing up in a small town and spending much of her time in the woods with only her imagination to expand the boundaries of that young world. Her love of art has grown naturally from this wonderment at the life around her.

Rather than a brush and paint to create her works, she uses various rotary tools, engravers and grinders to transform hard, cold metal into representations of the depth and texture found in her subjects. She focuses primarily on the negative space of the piece as she plans the incisions needed to capture her vision. She strives to accomplish a loose composition while controlling the flow of the lines. The ultimate goal of her work is to convey in each piece a visceral glimpse into the complex, beautiful and unique inhabitants of our common world.

Cym currently lives in Huntsville, Alabama where she works out of her home studio. Her work may be found in The Copper Fox Gallery in Franklin, Tennessee, My Happy Place Gallery in Ocean Springs, Mississippi and Connie Ulrich Studio in Huntsville.
Upcoming Schedule for the Moss Point Fine Art Gallery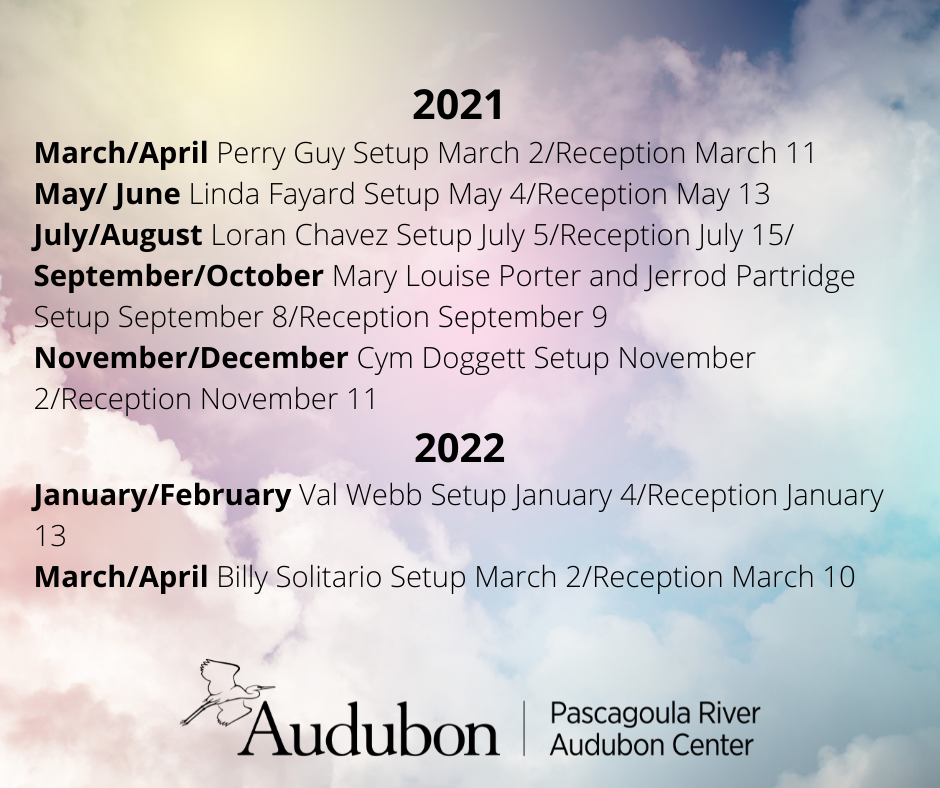 For information about having a show in the Moss Point Fine Art Gallery, please email prac@audubon.org