About the Gallery
The fine art gallery showcases individual artists, community exhibits, and student exhibits throughout the year. Every exhibit is welcomed by a free artist reception that allows visitors to see the exhibit first and meet the artist/s. Exhibits are typically on display for two months. If you are interested in holding an exhibit in the gallery, please email prac@audubon.org and send digital samples of your current work.
Current Exhibit: "Searching for Stillness" by Samantha Quiroz
In a world filled with chaos and the unknown, painting has unlocked light in the darkness for Samantha Quiroz, the next featured artist in the Moss Point Fine Art Gallery.
The Pascagoula River Audubon Center invites guests to an artist reception and gallery opening Saturday, January 15, from 11 a.m. until 1 p.m. The reception is FREE and open to the public. Light refreshments will be provided.
Through her collection of art she calls "Searching for Stillness", Samantha said she has been able to return to a childhood pastime which she enjoyed with her great grandmother, and now she shares this joy with her own three children.
"Growing up, I wanted to become an artist," she said. "I loved art and remember so vividly the first time I used oil pastels with my great grandmother. She is the one who gave me such a passion for art.'
But, she said, life happened and her career went in a different directions. As a busy mom, she had lost the drive to create. Moving back to her home state of Mississippi and a Christmas gift from her husband helped rekindle that drive.
"I realized one day, while doing watercolors with my oldest daughter, that creating art was bringing me light in the darkness," she said. "I felt hope. On my hardest days, you could find me in my sunroom painting away."
Through her art, it is easy to see that she has a love for nature. She said the ability to paint those beautiful parts of the natural world have brought her peace.
"The world around me was chaotic, but for the first time in a long time, my mind was quiet. I love texture and using it to emphasize depth through my paintings," she added.
This art exhibit will remain on display through March 1, 2022.
Upcoming Schedule for the Moss Point Fine Art Gallery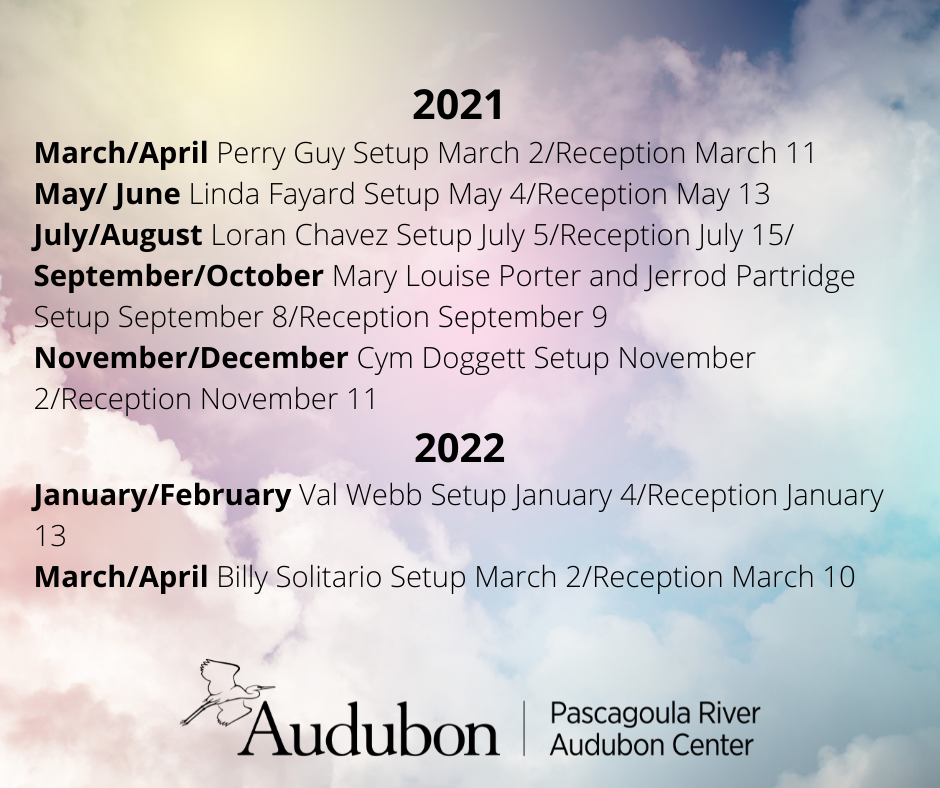 For information about having a show in the Moss Point Fine Art Gallery, please email prac@audubon.org