About the Gallery
The fine art gallery showcases individual artists, community exhibits, and student exhibits throughout the year. Every exhibit is welcomed by a free artist reception that allows visitors to see the exhibit first and meet the artist/s. Exhibits are typically on display for two months. If you are interested in holding an exhibit in the gallery, please email prac@audubon.org and send digital samples of your current work.
Current Exhibit: "Sights that Inspire"
Opening Reception: November 19 from 4-6 p.m.
Exhibited Dates: October 21 through December 19, 2020.
Exhibition Details: For more than 30 years, Sandra Eisler has been showcasing her artistic talents using latex and acrylics. She said she paints what inspires her, which includes sights from nature and historic structures. Painting started as a form of therapy for her and it has become part of her lifestyle. Her artwork hangs in my private and public places around Jackson County. Come view her work and take a piece home for yourself!
To view artwork or to make a purchase, click HERE.
Upcoming Schedule for the Moss Point Fine Art Gallery
January/February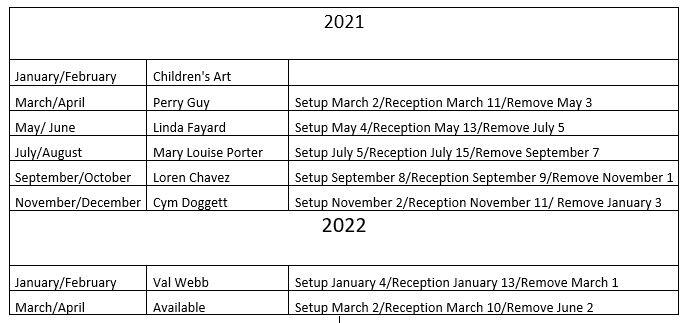 For information about having a show in the Moss Point Fine Art Gallery, please email prac@audubon.org