About the Gallery
The fine art gallery showcases individual artists, community exhibits, and student exhibits throughout the year. Every exhibit is welcomed by a free artist reception that allows visitors to see the exhibit first and meet the artist/s. Exhibits are typically on display for two months. If you are interested in holding an exhibit in the gallery, please email prac@audubon.org and send digital samples of your current work.
Current Exhibit: "Chasing the Light" by Jerrod Partridge and Mary Louise Porter
A love of the local landscapes and the desire to capture areas at the perfect time brought together the art of Mary Louise Porter and Jerrod Partridge creating "Chasing the Light" which is the next Moss Point Fine Art Gallery exhibit.
This combined artist exhibit will open at the Pascagoula River Audubon Center with an artist reception September 9, from 4 to 6 p.m. The reception is free and open to the public. Light refreshments, beer and wine will be served. The exhibit will remain in the gallery for public viewing and purchases through November 2.
Together the artists say this exhibit is an observation and response to scenes along the Mississippi Gulf Coast.
"Light is the primary subject in the paintings," Partridge said. "The color and temperature of the light are particular to that time of day and that day of the year, so it is a thrilling challenge to capture it with paint."
Porter is a contemporary landscape artist. She received a BFA and MFA in painting from Louisiana State University, Baton Rouge. Her work represents a journey of memories and images drawn from landscapes seen in her travels as well as experienced in the American South where she was born and raised.
"Each work of art captures the emotion and beauty of the location," she said.
Porter's artwork has been selected to represent Northwest Louisiana in John R. Kemp's book Expression of Place—The Contemporary Louisiana Landscapes. Porter was also featured in the November 2014 Louisiana Life magazine with emphasis on her life and artwork in Louisiana. She has participated in numerous artist residencies across the US and Costa Rica. Her work is also included in a number of galleries, and other public and private collections nationwide.
Louisiana State Exhibit Museum in Shreveport has one of her largest paintings "Louisiana Vibrations Red River Valley" in its permanent collection. The Alexandria Museum of Art in Alexandria, Louisiana, has a painting from her series "Storms Coming" in its permanent collection. The University of Arkansas in Monticello, Arkansas, has recently installed her painting "Venus" to its permanent collection.
Partridge is a full-time artist in Ocean Springs who also offers drawing and painting workshops. He is owner and co-creator at Art Space 86 which he uses to provide opportunities for artists and to enrich communities through art. His work can be seen by appointment at his studio and at Local Creatives Gallery in Ocean Springs, Southside Gallery in Oxford and at various Art Space 86 events.
"Any time I am painting outside, I am constantly chasing light," Partridge said.
He and his wife have lead Visual Explorations to Tuscany, Italy, each summer since 2013. After earning his undergraduate degree in graphic design from Mississippi College, he earned his Master of Fine Arts degree from the New York Academy of Art. He spent a semester in London, England studying art history. He is a 2011-2012 recipient of a Visual Arts Fellowship from the Mississippi Arts Commission and was named 2017 distinguished alumnus of the year by the Mississippi College Department of Art.
Upcoming Schedule for the Moss Point Fine Art Gallery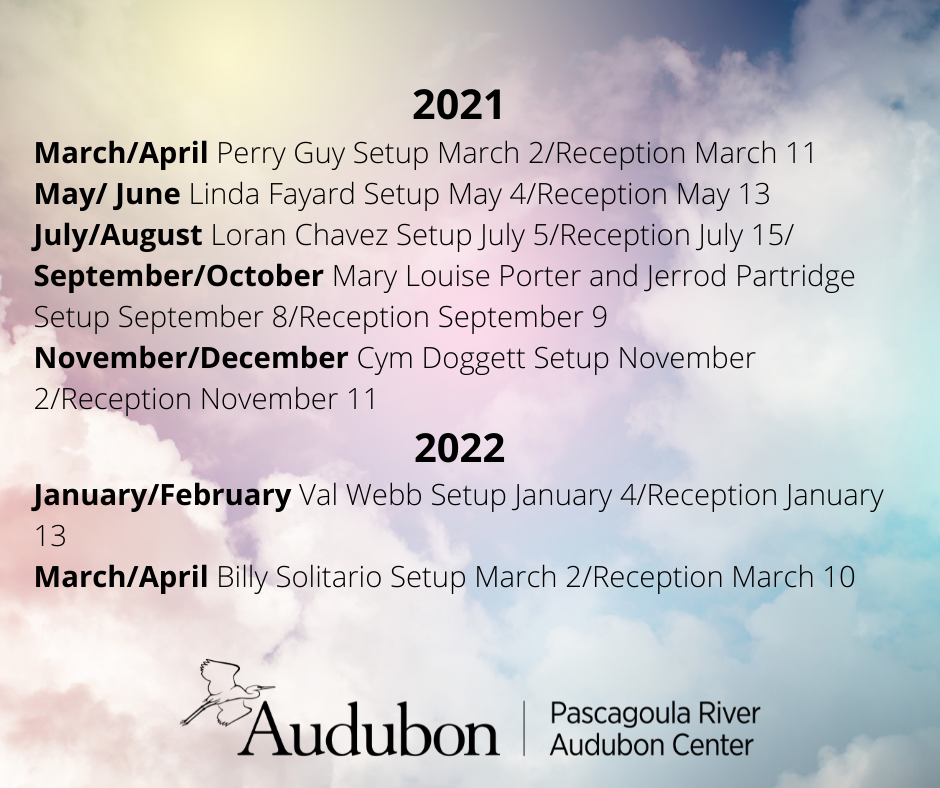 For information about having a show in the Moss Point Fine Art Gallery, please email prac@audubon.org