About the Gallery
The fine art gallery showcases individual artists, community exhibits, and student exhibits throughout the year. Every exhibit is welcomed by a free artist reception that allows visitors to see the exhibit first and meet the artist/s. Exhibits are typically on display for two months. If you are interested in holding an exhibit in the gallery, please email prac@audubon.org and send digital samples of your current work.
Current Exhibit: "Coastal Creations" by Linda Fayard
Exhibited Dates: May 10-July 5, 2021.
Exhibition Details: The art of Biloxi native Linda Fayard will be featured in the Moss Point Fine Art Gallery May 10 to June 5 with a special artist reception from 4 to 6 p.m. Thursday, May 13.

What started as a hobby inspired by a watercolor Christmas gift from her daughter has turned into a passion for Mrs. Fayard.

"A few years ago my daughter gave me a violin and violin lessons for Christmas. She decided I needed a new hobby. I tried it for one year and was awful at it and hated it," she said. "So the next Christmas she got me a watercolor set. I never took art in school – high school or college – and honestly never had any interest in it because I thought I had absolutely no talent for it. So I took the watercolor set, and not wanting to disappoint her, I literally watched hundreds of hours of Youtube videos trying to figure out how to paint."

After a few years of painting with watercolors, the local framer she was using relocated to north Mississippi, so she tried her hand at acrylics, and now also uses oils.

The art images depict one of three subjects—flowers, ladies and coastal stuff. She said she has always loved the beauty of flowers and feels a personal connection with the lady subjects she paints.

"They don't sell like the others do, but I still love to paint them the most," she said. "Because the coast is such an integral part of who I am – I was born in Biloxi. My dad was in the Air Force and we ended back here in Ocean Springs in 1965, I really enjoy painting anything coastal. This is the subject for me that is the most fun to paint."

Original pieces of art will be available for purchase during the reception and throughout the 8 week show.
Guests are invited to meet the artist, view the art and make purchases during the opening reception of the Coastal Creations show at the Moss Point Fine Art Gallery from 4 to 6 p.m. on May 13 2021, at the Pascagoula River Audubon Center. Refreshments, light snacks and beverages will be served from Dixie's Perch, and anyone under 21 must be accompanied by an adult. Admission to the opening reception is free; donations are encouraged.

For visitors attending the reception onsite, all social distancing protocols will be followed. Guests inside the gallery will be limited, and masks are required inside the facility.
To view art click
Upcoming Schedule for the Moss Point Fine Art Gallery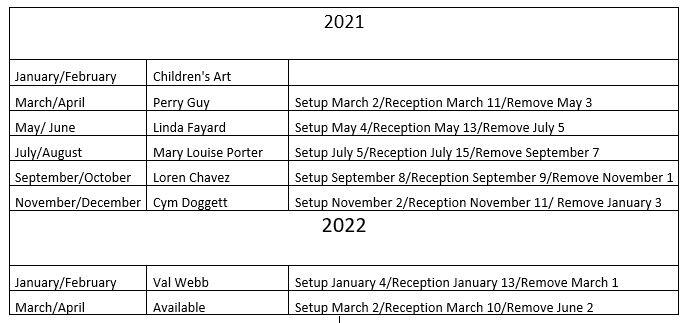 For information about having a show in the Moss Point Fine Art Gallery, please email prac@audubon.org