About the Gallery
The fine art gallery showcases individual artists, community exhibits, and student exhibits throughout the year. Every exhibit is welcomed by a free artist reception that allows visitors to see the exhibit first and meet the artist/s. Exhibits are typically on display for two months. If you are interested in holding an exhibit in the gallery, please email prac@audubon.org and send digital samples of your current work.
Current Exhibit: "Sea and Sky" by Billy Solitario
"Sea and Sky" Exhibit to be featured at PRACThe works of Artist Billy Solitario will be on exhibit in the Moss Point Fine Art Gallery during March and April featuring some of his best works of the sea and sky. An artist reception, sponsored by Ramsay Taylor, will be held Thursday, March 10, from 4 to 7 p.m.

Born in 1972 in Manhattan Beach, California, today Solitario finds beauty among the sand dunes, coastal savannas, and barrier islands along the Louisiana and Mississippi Gulf Coast. His father worked on the Apollo space program in California, but his family moved to Gautier when he was still a child. This is where his love of the sea, beaches and open skies flourished.


Solitario, who refers to himself as a "classic realist", earned degrees in art from the University of South Florida and Tulane University. He studied at the New Orleans Academy of Fine Art where he also taught landscape and portrait painting.
His works explore various subjects, including landscapes, portraits and still life paintings. As a landscape painter, Solitario says he is most inspired by cumulonimbus clouds and the Mississippi River. He emphasizes the magnitude of the sky and clouds above small slivers of land below.

Billy Solitario's still life works honor the rainbow of colors found in the crabs, oysters, and crawfish native to the Gulf Coast. Billy paints with a "wet on wet" technique and uses value to bring his signature depth to the pieces.
Solitario can usually be found working on site or at his Magazine St. studio in New Orleans.
Upcoming Schedule for the Moss Point Fine Art Gallery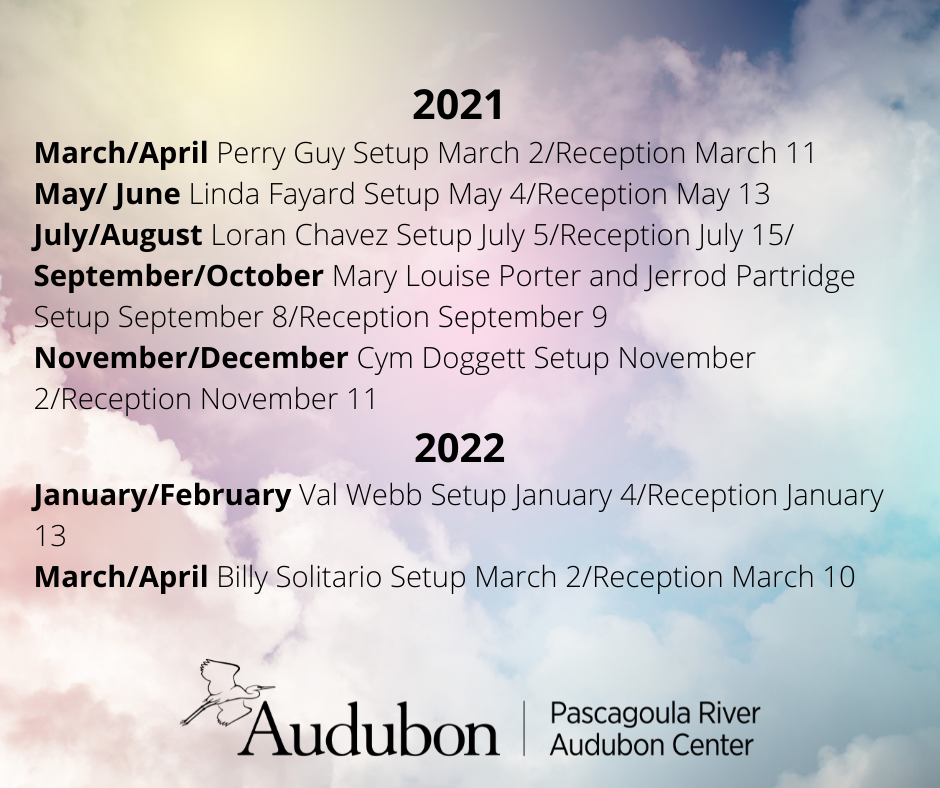 For information about having a show in the Moss Point Fine Art Gallery, please email prac@audubon.org