About the Gallery
The fine art gallery showcases individual artists, community exhibits, and student exhibits throughout the year. Every exhibit is welcomed by a free artist reception that allows visitors to see the exhibit first and meet the artist/s. Exhibits are typically on display for two months. If you are interested in holding an exhibit in the gallery, please email prac@audubon.org and send digital samples of your current work.
Current Exhibit: "Painter and Poet"
Exhibited Dates: March 2 to May 3, 2021.
Exhibition Details: A mutual love for sun, sand and the gulf coast heritage has created a beautiful partnership between the poet and painter, and that beauty will be on display at the Pascagoula River Audubon Center from March 10 through May 3, 2021.

Author Perry Guy and Artist Tami Curtis have been commissioned to create a series of paintings and poetry focusing on local shore birds. As part of a GOMESA grant awarded to the Audubon Coastal Bird Stewardship program, this project is a two-part series of educational bird signs aimed at increasing awareness of the importance of protecting shore birds.

"There are a total of 12 signs that will be displayed in Harrison County," said ACBS Manager Melinda Averhart. "Along with the illustrations, the artist and poet have also created a children's book with these illustrations."

The shore birds to be featured through art and illustration of the book Fine Feathered Friends/Birds of the Great Gulf Coast include Least Tern, Black Skimmer, Marbled Godwit, Snowy Plover, Laughing Gull and Great Blue Heron. A portion of the proceeds from the book sales will be donated to ACBS.

Author Perry Guy spent his childhood and formative years on a dairy farm in Kentwood, Louisiana, which gives his work a zydeco flair. He now makes his home on the Alabama Gulf Coast and writes about nature, family gatherings and the beauty of the Gulf Coast. Other book titles by Guy include Treasures in the Sand, A Gulf Coast Christmas, Mardi Gras Boat Parade and The Great Gulf Coast Seafood Festival.

The art of Tami Curtis is highly influenced by the rich history, music, culture and nature of the south that she has spent a lifetime learning and loving. She and her husband live in Bay St. Louis where she operates a gallery in the historic Century Hall.

For more information regarding the author and artist, visit their websites at http://www.tamicurtisstudios.com/ and https://www.thepainterandpoet.com.

Guests are invited to meet the poet and painter, view the art and purchase signed books during the opening reception of the Painter and Poet show at the Moss Point Fine Art Gallery from 4 to 6 p.m. on March 11, 2021, at the Pascagoula River Audubon Center. Refreshments, light snacks and beverages will be served from Dixie's Perch, and anyone under 21 must be accompanied by an adult. Admission to the opening reception is free; donations are encouraged.

For visitors attending the reception onsite, all social distancing protocols will be followed. Guests inside the gallery will be limited, and masks are required inside the facility.
To view art click HERE.
Upcoming Schedule for the Moss Point Fine Art Gallery
January/February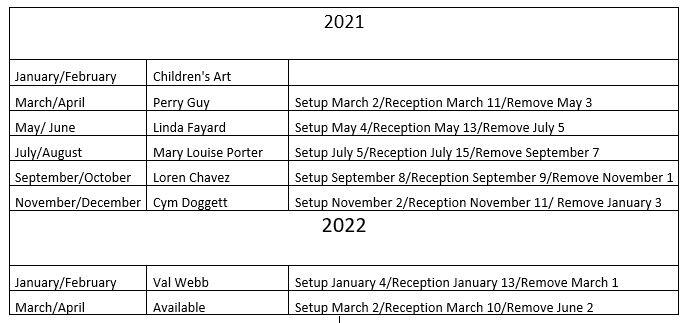 For information about having a show in the Moss Point Fine Art Gallery, please email prac@audubon.org