The Finalists Have Been Notified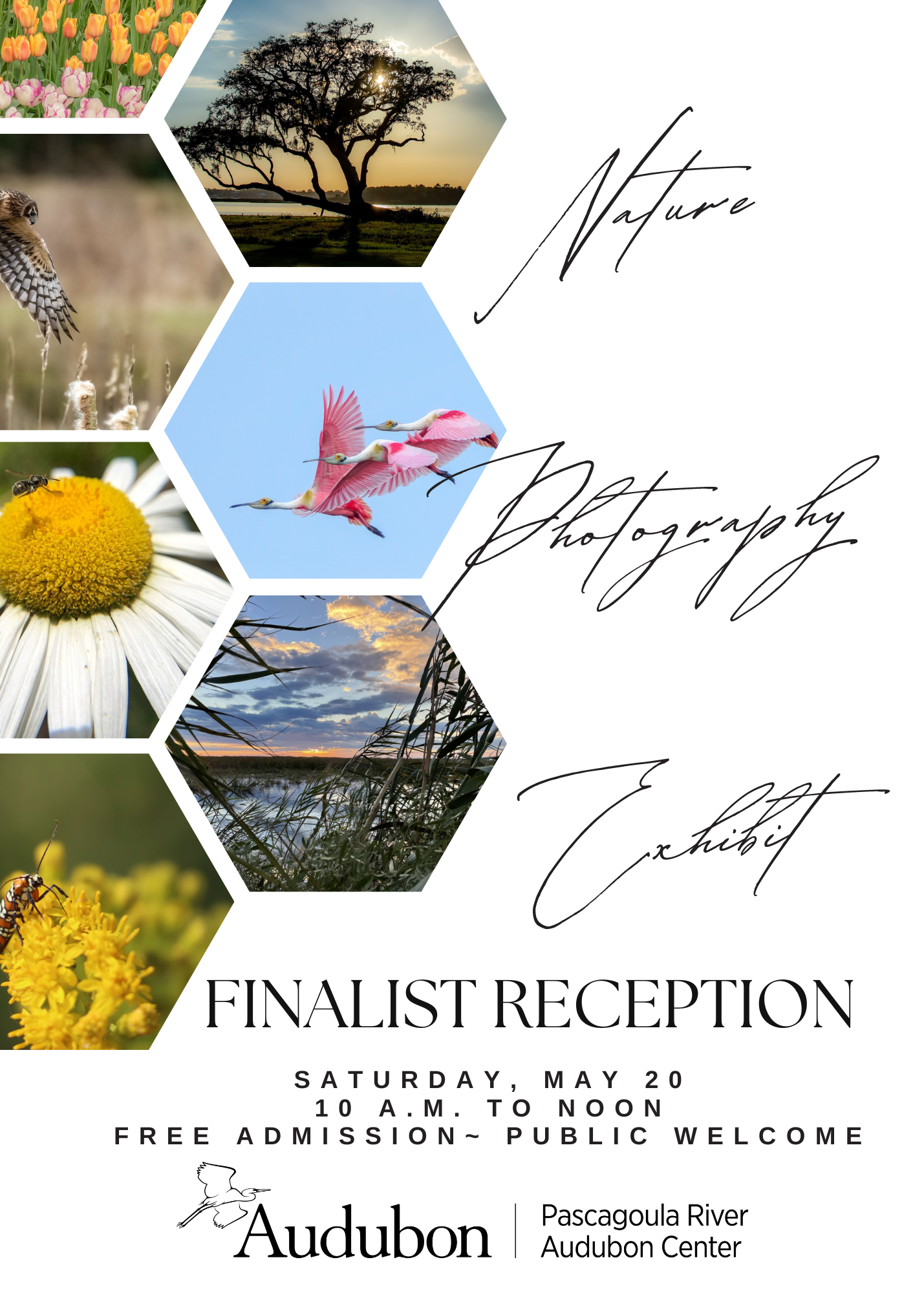 2023 Photography Finalists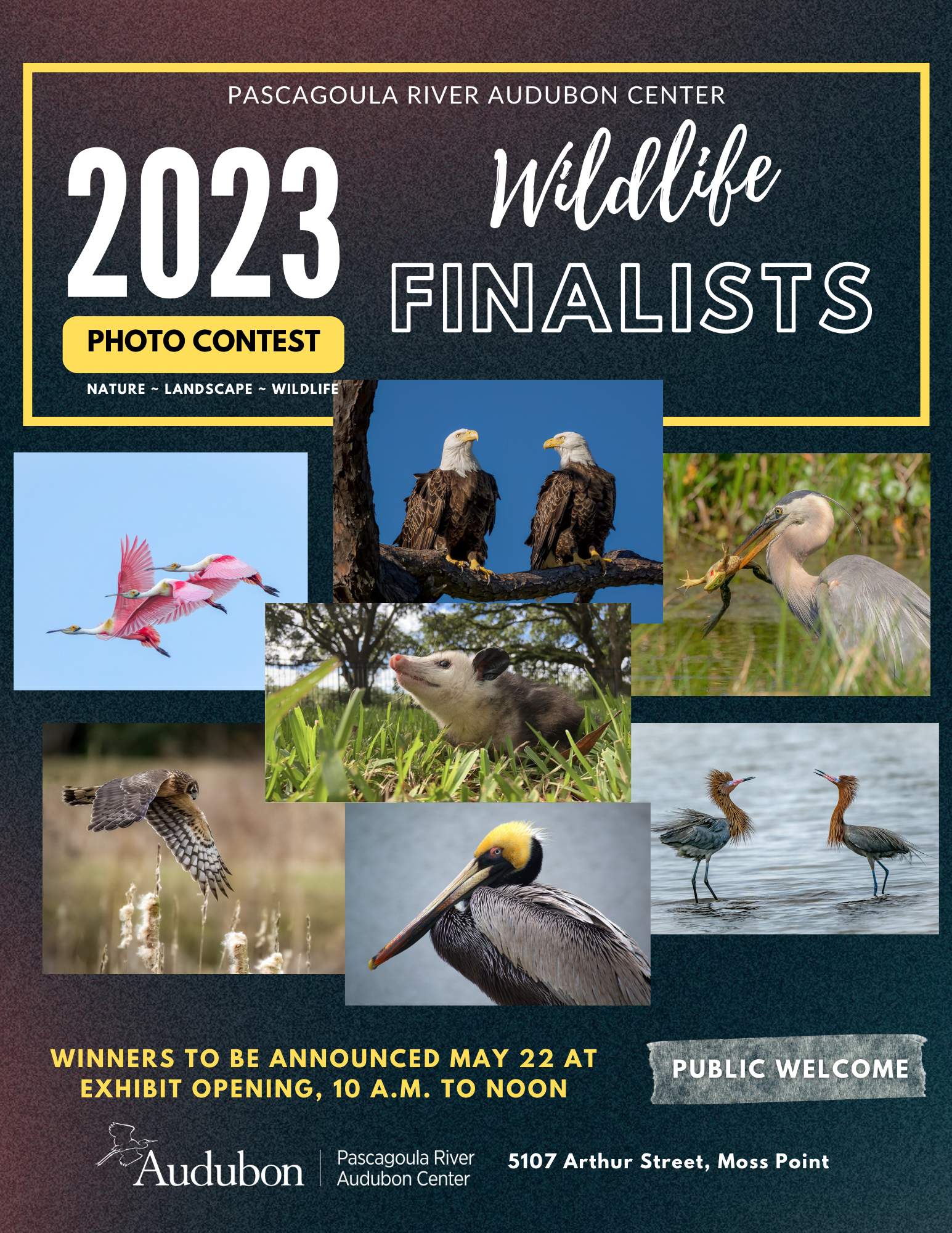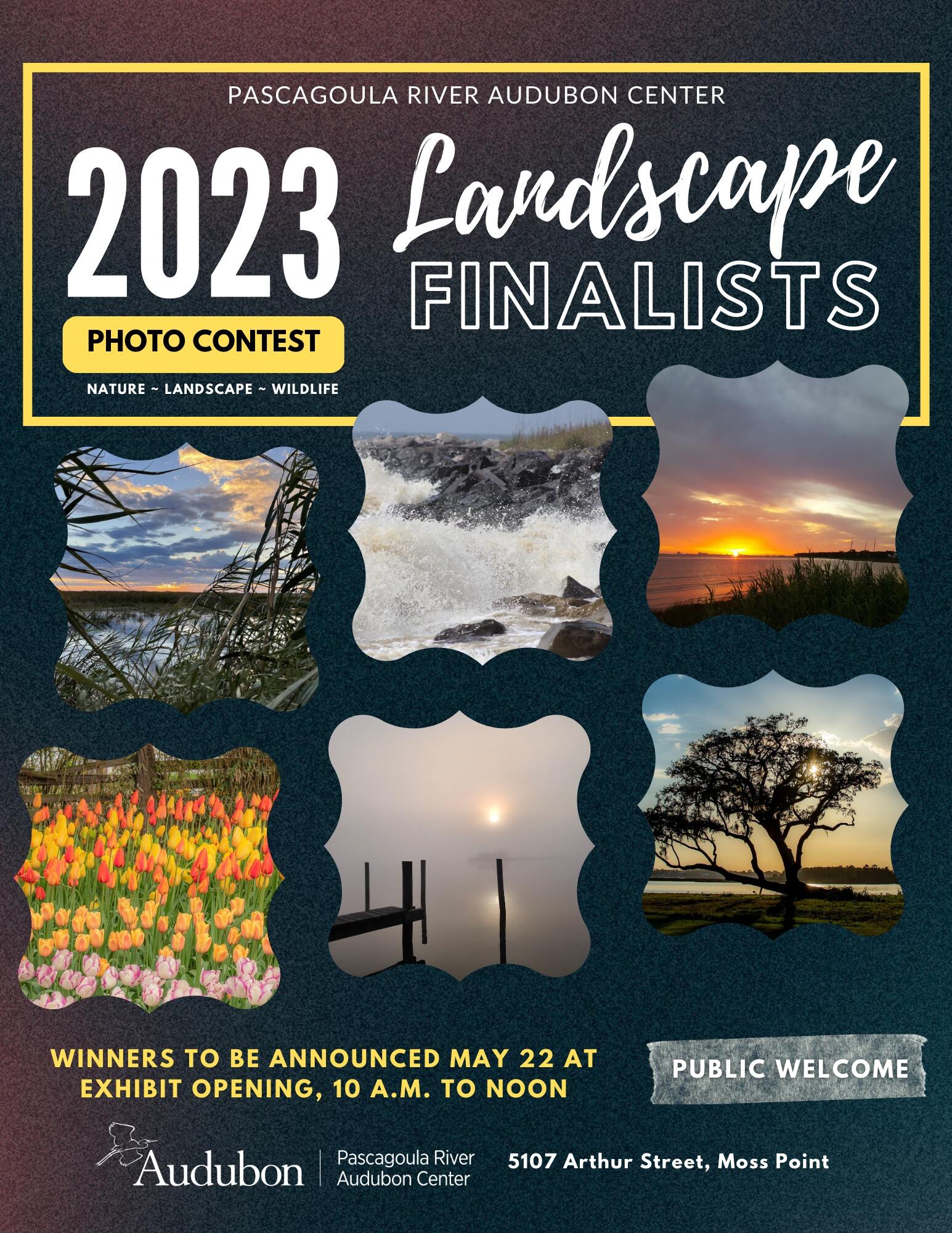 Attention Photographers: Stay tuned for call for entries for the 2024 Outdoor and Nature Photography Contest!
The Pascagoula River Audubon Center (PRAC) will be accepting photo entries between March 1 and March 31, 2023. Photographers may submit up to 5 photos with an entry fee of $5 per photo. Photography that depicts the local area is preferred; however, the contest is open any photography.
This year a few things regarding the contest have changed; however, the basics of the contest will remain the same. All finalists will have their photographs on display in the PRAC River Room Photography Exhibit from May 20 until June 30.
There will be three (3) photo categories this year
Wildlife: i.e., Wild Animals - Birds, Fish, Insects and Critters, etc.
Nature: i.e., Vegetation - Plants, Flowers, Trees, Leaves, etc.
Landscape: i.e., Natural Scenery - Marsh, Coastline, Rivers, Weather, Sunrise, etc.
Eligibility: The Exhibition is open to all residents of the United States ages 5 and older. Entrants must submit a digital link via email of up to five (5) Photographs depicting wildlife or nature components on, in, or around Mississippi. Photographs must depict a nature or outdoor theme. Topics may include but are not limited to birds, other animals, spring migration, working on the river, new life, vegetation, and weather. We prefer photos taken recently.
Any form of photographic manipulation that alters the original intent of the image is not permitted. Standard optimization of images (cropping, elimination of dust spots, minor adjustments to color, contrast and sharpening) is allowed. The removal, or manipulation, of colors contained within the original image to enable the production of monochrome images is permitted.
How to Enter: To submit photographs, email a completed Entrance Form and your digital photographs to prac@audubon.org. No hard copies will be accepted.
Requirements: Photographs must meet the following requirements:
· Photographs must be submitted by 5 p.m. on March 31, 2023, by email to prac@audubon.org
· Photographs must not contain signatures, watermarks or any other identifying marks.
· All photographers selected for exhibition must be able to produce original jpg's.
Entry Fee: The entry fee is $5 per submission. Registration is not complete until the entry form, digital submission of photographs and entry payment are received by PRAC. Entry fees will be accepted HERE.
Judging: Judging will be conducted by a three judge panel to be appointed by the PRAC. Judging will be based on technical quality, originality, and artistic merit. The decisions of the Judges will be final. Entrants will receive notification via email no later than April 17, 2023, if their photograph(s) were selected for the exhibition. The three-judge panel will consist of locally-known photographers.
Exhibition: Selected photograph(s) must be printed in either 11 x 14 inch or 16 x 20 inch dimensions. No metal photos will be accepted for the exhibition. Selected photograph(s) must be framed in a simple black, white or wood frame no larger than 16 x 20 inch dimensions. The frame must have an easel attached to the back. No ornate, heavy, decorated or frames without easel attachments will be accepted. Selected photograph(s) must be delivered to the Pascagoula River Audubon Center no later than 3 p.m. May18. All selected work must be gallery-ready when delivered to the Center.
To register and receive full contest guidelines, click HERE to provide your contact information.