Spring into Spring as part of the flock!
On behalf of the Pascagoula River Audubon Center, I would like to invite you to be part of our flock by taking part in the 2021 Birds of a Feather Spring Fundraiser.
In this time of social distancing, the staff and advisory committee has developed a plan to safely engage the community and donors and provide time to enjoy the beauty of nature with family and friends. To celebrate the first day of spring, March 20, we invite all friends to join us for "Picnic at PRAC."
Picnic at PRAC will be a day filled with enjoying nature, spring native plant sale information, kayaking, family fun, boat rides, entertainment and picnicking. Guests will choose an area for a picnic for a group of up to 6 people and will place an order for a meal delivered by Scranton's.
Live entertainment will be provided from 11 a.m. to 2 p.m. by "Jen and Tonic" from the bird hide and from 10 a.m. until 2 p.m. on the front lawn by the "Black Bandanas." Picnic table reservations are from 11 a.m. to 2 p.m. and meals will be available at 11 a.m.
All proceeds will go toward supplies and activities for the 2021 summer camps for children to offset the tuition. If you need more information, please call us at (228) 475-0825.
Admission to the site is free. Picnic spots and food prices are below. NO BYOB, and under 21 alcohol consumption is not allowed.
$1 tickets will be sold for Chinese Auction from 10 a.m. to 2 p.m. Drawing at 2 p.m. Do not need to be present to win.
Masks must be worn if social distancing is not possible.
Step 1: Choose your picnic spot
Option 1 $500: includes seating with a bayou view and food for 4 – 6 people, picnic bag filled with swag, centerpiece may be taken home with picnickers, personal musician to play a limited time (only 3 spots available)
Option 2 $250: includes seating and food for 4 – 6 people, picnic bag, and located close to the band and other picnickers. "Jen and Tonic" will be set up under the oak tree (only 8 spots available)
Option 3 $150: includes reservation at a picnic table under building, near Dixie's Perch, not close to the band. Seating is best for 4 but can accommodate 6. Picnic Bag also included. (only 8 spots available)
Option 4 $75: includes picnic for 2-3 people. Picnickers must bring their own seating (blanket, chairs, umbrella, tent, etc.) for a Front Lawn spot, socially distanced (only 20 spots available) to enjoy entertainment by the "Black Bandanas".
Step 2: Choose your menu
Tea-Time Menu:
Assorted Tea Sandwiches: Vicksburg Tomato Sandwiches, Pimento Cheese Focaccia Triangles, Bite-Size Chicken Salad Croissants, Turkey & Ham Deli Spirals
Garden Salad choice Fresh Romaine & Spring Mix, Diced Tomatoes, Cucumbers, Shredded Carrots & Red Cabbage with your choice of House Made Ranch, Balsamic or Hot Bacon Vinaigrette
House Made Seasoned Potato Chips
Fresh Southern Style Menu:
Robert's Bread Bites: French Bread topped with our Crawfish Spread and Cheeses Baked Until Golden Brown and served Bite-Size
Entrée Salad Options (Choice of One):

Apple Pecan Chicken Salad with Raspberry Vinaigrette,
Firehouse Chicken Salad with Chipotle Ranch or
Blackened Shrimp Spinach Salad with Hot Bacon Vinaigrette

House Made Seasoned Pork Rinds
Asian Zing Menu:
Asian Chicken Meatballs: House Made Asian Chicken Meatballs Marinated in a Thai Chili Sauce
Pork Pot Stickers: Pan Fried Pork Pot Stickers with a Garlic-Soy Dipping Sauce
Asian Noodle Salad: Description TBD with House Made Wonton Chips
Picnic includes bottled water, mini bites dessert tray and all paper goods and cutlery.
Step 3: Choose optional beverages
$10 Bottle of Wine: Cabernet Sauvignon, Pinot Grigio, White Zinfandel
$8 Six Pack of Beer: Michelob Ultra, Miller Lite, Bud Lite
$8 Curbside Cocktail Pouch: Bloody Mary, Mimosa, Rum Smash
View picnic spots in slideshow below:
Other Activities
1-Hour Self-Guided Kayaking: single, $5; tandem, $10
Wood Painting: $25 (must register with artist)
Glass blowing: $65 (Register Here)
Boat ride: 1 hour $10 leaving between 9 a.m. until 2 p.m. (first come, first served; reservations at front gate)
Lawn games: corn hole, checkers
How you can help, right now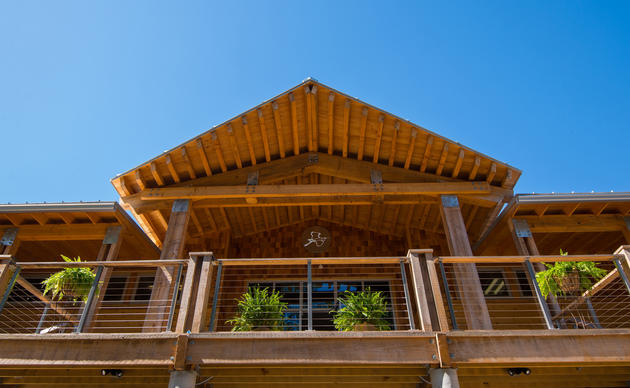 Volunteer With Us!
We need helpers in the gardens, at the front desk, and with educational programs. Contact us today for more information.