Carol Hewlett's love for bluebirds was lengendary. She loved everything about them- her home and life were full of this symbol of happiness. Bluebirds grace our lives with their vivid colors and charm. Carol was also dedicated to the Pascagoula River Audubon Center, helping us with everything from summer camp registration to running the front desk. After her passing in February of 2017, we wanted to work with her family and friends to celebrate her memory.
What better way to honor Carol than to help these beautiful birds prosper? By establishing the Carol Hewlett Bluebird Trail we can share her passion both for bluebirds and community connections.
Unlike an ordinary trail of boxes in a row or across a field, Carol's trail will be unique, like its namesake. Any bluebird box already in place or new ones are welcomed. New locations could include schools, public places, or places of worship. The only requirement for being part of the trail is sharing the lives of your bluebirds with us! A Hewlett Bluebird Patron or Team will be asked to monitor the success of their bluebird family or families throughout the year such that we can collectively celebrate the trail's successes every year.
You don't have a box? We can help you build one. If you already have a box, great! – you are welcomed to be part of Carol's legacy – a collection bluebird boxes that celebrate and connect birds and our community. Here at the requirements for being a Patron:
Each box will sport a "Carol Hewlett Bluebird Trail" logo, provided by Audubon, that will remind us of our friend but also help us tell others who she was and, as importantly, what the trail represents.
Each Trail Patron will be asked to monitor the box on a weekly schedule to track the lives of their birds throughout the breeding season (March through October) during which as many as three broods of young are reared. Audubon will show you how.
Carol Hewlett Bluebird Trail boxes must be built to specification for our Eastern Bluebirds so that our bluebird families have the best chance for success
At the end of each season, Audubon will share the results with the world as part of its Citizen Science programming. Each year, around February 7th (the anniversary of Carol's passing), we will gather at the Pascagoula River Audubon Center to share our stories, toast our friend Carol, and perhaps inspire others to join in the fun.
Contact us at prac@audubon.org to register your box as part of the trail or to learn how to build and place one at home or other places in the community. Audubon will host bird box building and monitoring training sessions in the coming weeks to get you started. And don't worry, there is NO LIMIT to how many boxes we include in Carol's Trail – as she would have it no other way!
How you can help, right now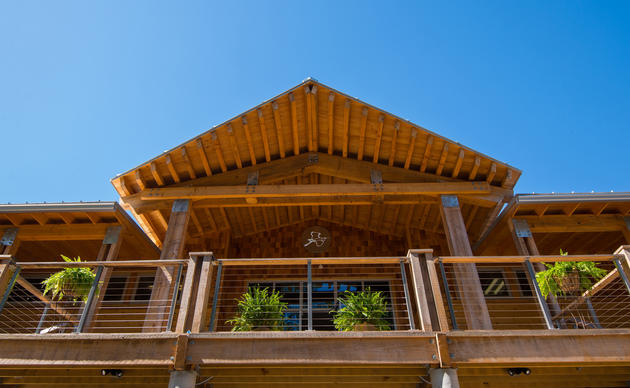 Volunteer With Us!
We need helpers in the gardens, at the front desk, and with educational programs. Contact us today for more information.