News
Audubon and Turkey Creek
Together, Audubon and community leaders in Gulfport, Mississippi are protecting Turkey Creek's rich cultural and natural history.
Together, Audubon and community leaders in Gulfport, Mississippi are protecting Turkey Creek's rich cultural and natural history. Located in the midst of Gulfport, Mississippi, this African-American community was originally established in 1866 by freed slaves during the "forty acres and mule" era of reconstruction after the U.S. Civil War.
But in recent years, neighborhood residents have faced development pressures that threaten to obscure its heritage and erase its green space. Derrick Evans, formerly a lecturer of History & African American Studies at Boston College, is a product of Turkey Creek – and he has spent the last ten years leading its citizens in a fight for the community's survival.
The Pascagoula River Audubon Center is only 30 miles from Turkey Creek and has a long-term commitment to the community's plight. EArly on, simple events like Creek Sweep focused on getting people into the "creek" to remove decades of debris.
Promotion of the Great Backyard Bird Count and a one-day Biological Inventory of the creek helped to highlight just how special the area was as a refuge for common birds and wildlife and as an important stopover for migrating birds in spring and fall. The value of the site for birds led Audubon and the Mississippi Coast Audubon Society to recognize Turkey Creek as a site on the Mississippi Coastal Birding Trail.
"The Turkey Creek community has long recognized Audubon's role in helping it raise attention about the value of our natural areas for birds and people and for being the first group of naturalists to do so. Being identified on Audubon's Coastal Birding Trail by Judy Toups, Don McKee, and Mark LaSalle provided a pivotal boost to our credibility and confidence as a place that is important beyond our immediate borders."- Derrick Evans
Many other organizations have joined forces with the Turkey Creek Community Initiative established by Derrick in 2003 with a mission "to conserve, restore and utilize the unique cultural, historical and environmental resources of the Turkey Creek community and watershed for education and other socially beneficial purposes."
Currently recognized as an important urban greenway, the Turkey Creek area has achieved a level of protection that was made possible by this coalition of partners working together for a common goal. The site has been recognized by the U.S. Environmental Protection Agency as a critical urban watershed and more recently a significant portion (200 plus acres) of the upstream reach of the creek was acquired as mitigation for a planned highway project and placed in permanent conservation.
Audubon continues to work with the Turkey Creek community to find new ways to celebrate its diverse wildlife and natural heritage – and to engage its residents in conservation stewardship.
Highlights of Audubon initiatives with Turkey Creek include:
• Participation in the Great Backyard Bird Count since 2003.
• Master Naturalist Volunteer training (five adults, including Derrick Evans)
• Audubon's Operation Backyard Recovery Campaign following Hurricane Katrina, including sponsorship of the Katrina Tree Recovery effort (a tree distribution site) and the construction of fence-board bird houses and feeders.
• Continued restoration of the Turkey Creek natural area and bird trail site, including construction of a footbridge by teens from the Visions Adventure Team in 2007
How you can help, right now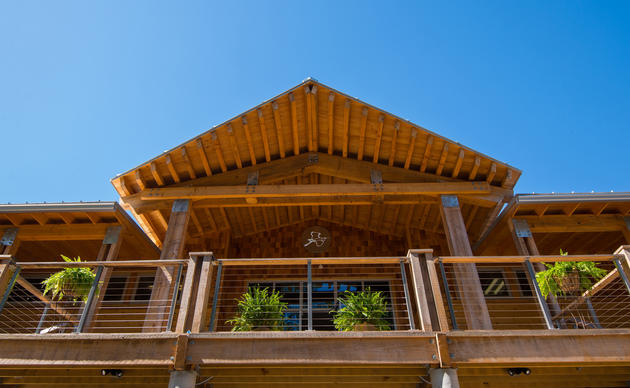 Volunteer With Us!
We need helpers in the gardens, at the front desk, and with educational programs. Contact us today for more information.